1965 Beech Debonaire N63HM S/N: CD-950
Continental IO-470-K. Only around 200 SMOH (235 sHP) GAMI Injectors and JPI EDM800, An Absolute Beauty!
Excellent Paint! Fresh Engine! No Damage History, Logs Since New

Airframe:
4365 Total Time. NDH, Excellent Paint. No Hail, Excellent Maintenance!
3rd Window Added, Useful
Load 995.2, 74 Gallons Useable
Fuel. Strobes in New Wingtips.
Engine Specs:
Continental IO-470-K 200 SMOH by Tim's Aircraft Engines.
GAMI Injectors
Airwolf Air/Oil Separator System
Logs Since New.
Prop:
McCauley 2 Blade Prop. 1399 SPOH.
Interior:
Burgandy Cloth Interior—Clean
Exterior:
White with Burgandy and Silver Accents.
Avionics:
King KMX-150 Multi-function Display
Collins AMR 350 Audio Panel / 3 Light Marker Beacon
Collins ADF 650 ADF,
Collins VHF 251 Com (2),
Collins VIR 351 Nav (2),
King KN62 DME,
Narco AT 150 Transponder,
Avionics Master Switch,
Sigtronics 4 Place Intercom,
Horizon Instruments Digital Tach,
JPI EDM 800 EGT / CHT / Fuel Flow Meter,
Davtron M8800 In-Yoke Chronometer,
G-Meter,
Beech Auto-Pilot / Wing Leveler
Additions:
Both Dual and Single Yokes (currently dual yoke is installed),
Whelen Strobe Kit in Wingtips and Tail,
Late Model Bonanza Wing Tips,
Articulating Map Light,
Rosen Visors,
Full Aircraft Covers from Bruces – Wings, Fuselage, Canopy!,
Battery Tender Polished Spinner,
Chrome Tow Bar
Inspection Status:
Annual Due—September 2009

2010-01-01
N634HM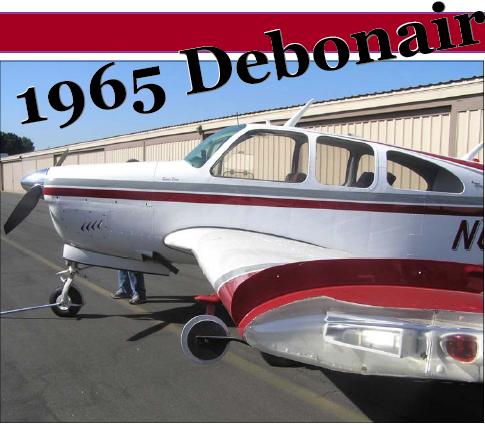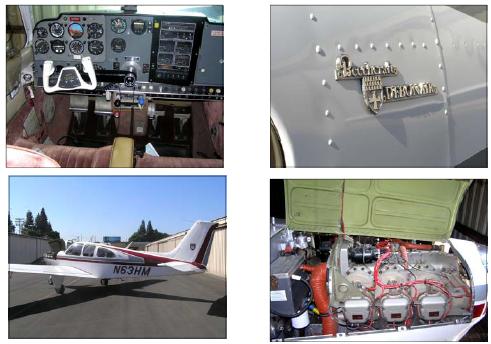 Audio, Videos and Documents